All of the new parts and refurbished lower a-arm are ready to assemble. The old parts have been disposed of with the exception of the upper a-arms and the original 400 in-lb springs - the springs will be retained in the event the new 350 rate is too soft. All removal was relatively easy, even going after the tapered fittings with a 16 oz hammer - pickle forks never really worked for me. The only parts that were not replaced were the tie-rod ends. I cannot remember what car they were originally designed for. I cannot find a parts dealer in my area that would have TR4, TR6, etc. rod ends to compare - they are larger than Spitfire, or GT6. The existing ones are in great condition, so I have time to resolve the problem. I have spent a few hours searching the Internet for information regarding taper size, thread size, etc. but came up empty. I even e-mailed Canley Classics to see if they had measurements - they did not.
The only part left on the car to be replaced is the anti-roll bar. Presently it is a 7/8 inch diameter bar and I want to replace it with a 1 or 1 1/8 inch bar - if they exist. The following photo is of some of the old components - drum brakes, upper a-arm, shock absorber, and spring (not including the lower a-arm) for the passenger side.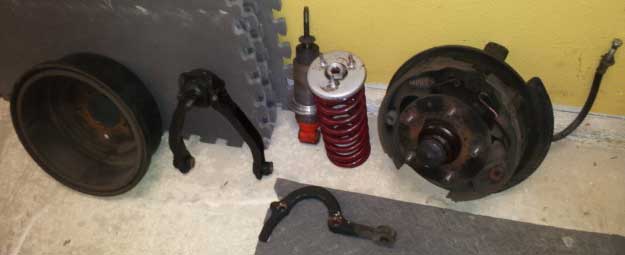 This photo shows the bare suspension pedestal ready for the new parts.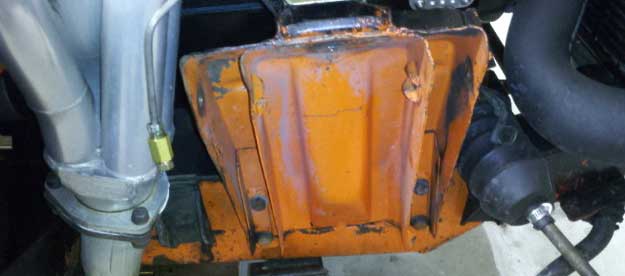 A bare canvas. Ready to start assembly.