Dashboard Project
The last part of the interior is the completion of the dashboard project. I decided that the stock 1964 Spitfire dashboard left a lot to be desired - the placement of the speedometer and tachometer was poor and there is a lack of room to place more, functional guages in the dash. The extra guages that I needed to support the modifications to the car were "hung" wherever I could find room. This led to extra wiring under the dash that slowly started to resemble a spiderweb that was built by a spider with a severe hangover.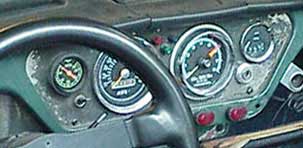 To meet all of the gauge requirements the dashboard needed to be fully redesigned to allow better and more logical placement of the instrumentation and with enough room to hold all guages. It also needed improvement in aesthetics. To support a new dash, all of the wiring must be replaced; but, this is a job that started to encompass much of the wiring throughout the car. The fully wired dashboard will be connected to the rest of the wiring harness with the use of two military connectors. Using the military connectors makes it possible to design the dashboard to be easily removed when it is necessary to work on items behind the dash.
To create the new dashboard pattern, I borrowed the wooden dashboard panels from a 1976 Spitfire from my friendly British auto wrecking yard, British Motorsports in Campbell, California, as a basis.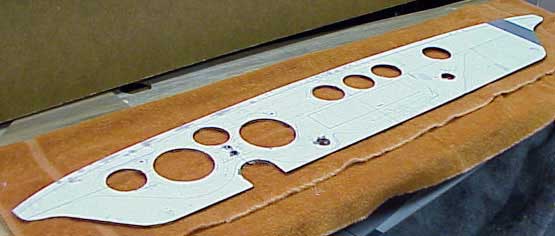 I employed Prestige Autowood of San Jose to make the wood dashboard using my pattern as a basis - owner Randy Keller selected Hawaian Koawood. He is an artist. The photo here does not do justice to the work. He builds stock configuration dashboards that are retailed at Victoria, Moss, and other parts distributors. But, in between the production runs he works on the custom dashes and wood trim an all cars.

The guages, switches, power outlets, ignition switch, signal lights, and clock were installed in the template in order to help design a new dashboard mounting frame. The new frame was made from aluminum. I am sure that it will have to be modified to fit.

The guages, switches, power outlets, ignition switch, signal lights, and clock were installed in the new dashboard and it was fully wired and tested.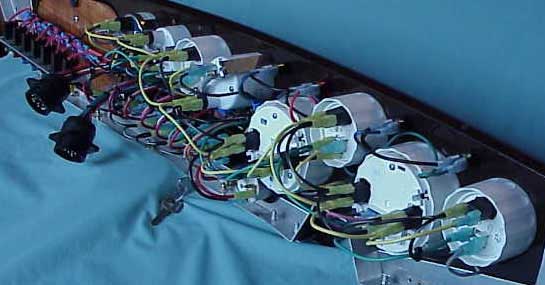 When it is time to install the dashboard, connections from the car's electrical system to the new dashboard will be accomplished by an interface board that will be mounted on the inside of the firewall. All connections aimed at the dashboard will be connected to the interface board and directed to the dashboard through the military connectors. With the dashboard installed and functioning, I can then install a sound system. But! Where do you put speakers in a Spitfire?????

I tested the new dash by applying a 12 volt source and took some "lights out" photos. The first one shows the guages lit and the second the lighted rocker switches.

---

The installation of the new dashboard has been accomplished. To see many photos and descriptions of the process - to view them click on: Dashboard Upgrade
Home